Sukhi Hontu! We, the Dhammaduta Youth (D2Y), together with the Buddhist Missionary Society Malaysia Youth Section (BMSMYS) would like to invite you and your fellow Buddhist youth members to come and participate in:

One Voice: a sharing of minds

Most Ven. Dr. K. Sri Dhammananda meets the Malaysia Buddhist Youth

An evening of celebration, discussion, and understanding as Chief Reverend shares his thoughts and his vision on the future with the Buddhist Youth. This is an interactive
event whereby the youths will have the opportunity to present their concerns and questions through this dialogue.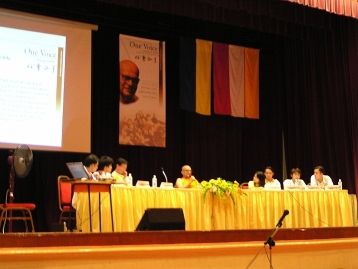 Held on Saturday 30th April 2005, it was such a sweet event. Not only were there meet-ups with so many other youths from various organisation, the event itself was noteworthy and I personally felt the D2Y organisers deserve a big pat on their shoulders. The gathering and sharing essence of a culturally diverse group of youths today within the same Buddhist community is undeniably the primary aspect that Malaysian Buddhist leaders should take lead in bridging for fellowship & understanding.

There were booths set up by Incovar, SJBA, BISDS, BGX (from Penang), from BMSYS, D2Y, ShahAlam, BUBS, PBUM, from Hilir Perak and this Chinese Buddhist musical group (I should have got their group name) who composed and make popular many nice melodious Chinese hymns. I just enjoy this kinda gathering, although the initial target for Incovar was probably for publicity & to promote the camp. Well, we did get quite a number of people to write down their names and has shown interest. Well, Aaron will have to call them up to make them apply!

The message by Chief Reverend, although I didn't pay much attention (due to my restless non-focus mentality), was predictable to me. But the best thing that I heard (or probably the only message I happened to have opened my ears) where, on the part about how the recent Tsunami had brought uimaginable distraught to mankind, Chief holding up a picture of a statue of Buddha still intact... and the Chief punned "the God that created the Tsunami must be a Buddhist".

(hey, sorry I laughed, but Chief could tell a joke!! In public infront of a large crowd!)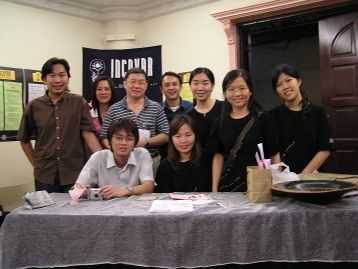 Hey, also check out on the postcards printed and distributed for this event! Choose your favourite design :>